So, do YOU look like YOUR pet?
December 12, 2007 - Amy Jo Hanna-Eckenrode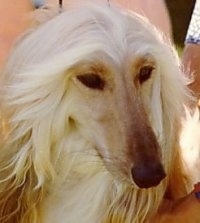 I remember many years ago someone telling me they thought I resembled an Afghan Hound (left), if I were to resemble any sort of dog. I took it as a compliment (off-handed of course, knowing they could have said a bulldog or pug...)
We were discussing how comical it is to see how closely some people resemble their pets. Just as many spouses start to morph into one similar look after so many years of marriage.
There is a cute feature today on
Celebrity Pet Dish via msn entertainment (click here)
showing celebs with their pooches. You be the judge.
(right:
Fran Drescher
with Esther, her chocolate Pomeranian.
(Paul Smith/Featureflash/Retna)