I sometimes think too much. (my mom would tell you I talk too much. Then again, I also eat too much. I'm beginning to see a trend…) I know I 'overthink'. I wonder if people really lend a hand out of a sincere desire to fulfill a human need to help others or if people are generally self-serving. I get bummed if I think about it too much; but, then sometimes something unique happens to make me realize that there truly are selfless beings in this world who have an inherent desire to help others.
A few weeks ago, I was touched to receive an email from a wonderful lady who was in the process of trying to rescue a stray mommy cat and her kittens. (I hope Laurel doesn't mind me mentioning her name.) She knew me only from my blog and was asking my advise. Believe me, that is more of an honor than she'll ever know.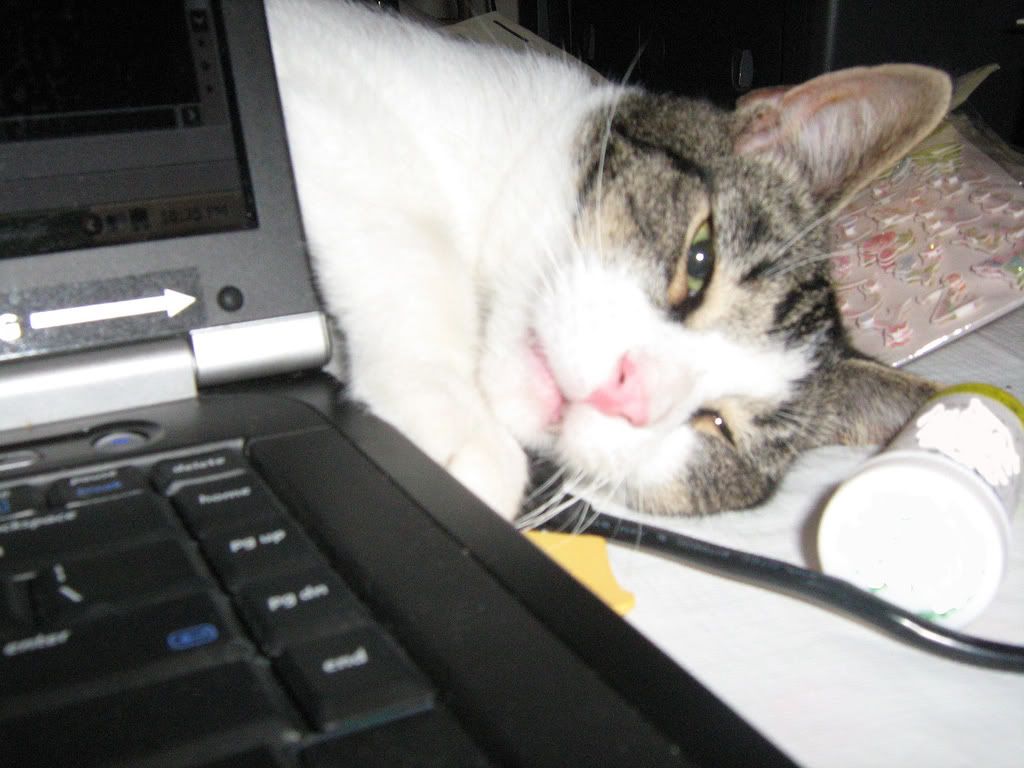 (left: Eli supervising me as I blog)
Like so many of us, she described herself as "that person who runs out on a busy road to save a dog, and that person who has crawled the side of a steep embankment in a storm to save a stray cat." And, like so many of us she admitted to taking the law into her own hands (not that there are that many laws or very good ones) on more than one occasion to save an animal's life. Like so many of us, Laurel, too loves animals.
A few months ago she noticed a little stray cat in the woods near their house. She began feeding her and trying to find out if she belonged to someone. She did not. Soon she was able to pick her up and realized she had babies somewhere. She and her own kids spent the next several weeks
searching. Finally one by one they started coming up onto their porch to eat. While she wanted to keep them she already had a full house: a 12yr old Doberman, 3yr old Shitzu, 5yr old cat, 2 - 15 yr. old cats that she inherited when her mother passed away 3 yrs ago; oh, and a very patient husband who was starting to teeter at the possible addition of a new family of kittens.
Laurel really captured my heart as she described how she "admired the little female who she described as an extraordinary mother" (being a mother herself of 13 yr. old twins), as she watch the new mother "protect and teach them with everything she's got" though she said, "she could not teach them how to play. [The cat] didn't know how," Laurel said, "so we taught them".
Laurel had promised her husband she would take them to the humane society as soon as she could tame and catch the last little tiger cat.

"He was the only one that was too afraid to let us near him. He appeared to have a scar on his side and was much smaller than the other 3 kittens."
When she couldn't find him for 2 days, Laurel feared the worst, afraid he crawled under the porch step to die. Laurel had her husband pull the step off to check but he wasn't there. (What a husband!)
Laurel finally resigned to take the mom and kittens to the humane society "because she trusted them to do the right thing." Laurel was devastated. She had grown quite attached to the brood as you can imagine but she knew the cats needed spayed and neutered, proper care and a good home.
She was concerned when she called the Central PA Humane Society and heard the recording state that they were asking people to make appointments for drop-offs because they were near capacity.
This concerns me to. I've heard from Laurel since and she was able to take the kittens to the humane society. But, now what? The fact that most PA counties only have one shelter that is always too full with little or no room for strays, begs us to consider how badly we need larger or more facilities. Or perhaps we need better education to teach people how to act more responsibly: to spay/neuter pets, to not get a pet only to discard within only months or a few years because they've determined they're too much (work, time, money); to not discard animals as if they were dispensable.
Every year millions of cats and dogs of all ages and breeds are euthanized or suffer as strays. Many as a result of being unwanted, unplanned litters that could have been prevented by spaying or neutering.

Would you consider helping the next time you encounter a stray or isn't it your problem?

What is?