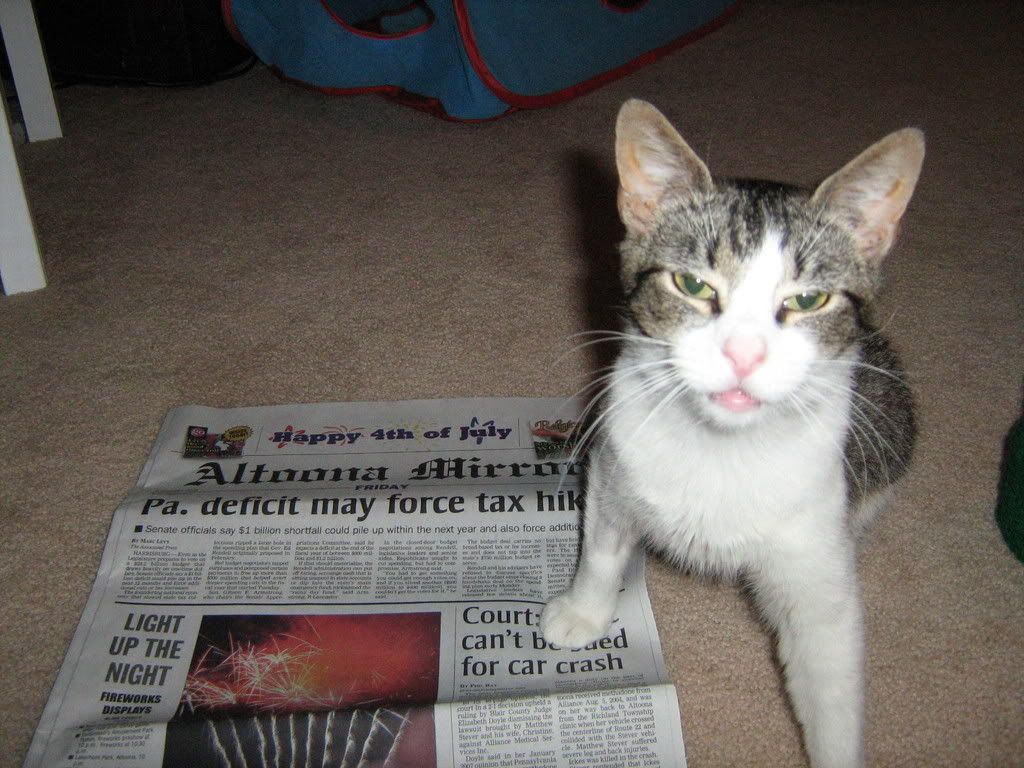 (left: Eli reading the Mirror. hmmm, perhaps he's telling me to use cat litter made from recycled newspaper?)
I am the first to profess how very little I know about animals except for how much I love them. However, I truly didn't realize how dumb I could be about animal products until I started leafing through PetCo's current sales flier. They do a great job of incorporating educational tidbits along with the sale items which only enhances the lure of their products.
I've been experimenting with cat litter ever since Eli adopted me in May. (poor lil' guy). I've actually become rather fixated with the whole litter process. I think a part of me must have been an archaeologist in a former life. I'm obsessed with a clean litter box. Not that Eli minds that part I'm sure. But, it's such satisfaction when I've discovered, recovered and discarded all of his little treasures. Ta da a clean litter box, free of clumps. (I must get a life). But I digress.
What kind of litter is best? And, best for who? – me, the cat, the environment?)
I've made many a friend in the cat litter aisle while pondering this decision. One man, accompanied by his wife, gave me a complete, unsolicited (but welcomed) history as to how they came to like one certain brand and now refuse to use any other kind. He was quite passionate about his cat litter.
I have other friends who also are quite attached to their brand of cat litter as well and dare you to suggest any other brand.
PetCo has taken the initiative to explain litter in a little more detail than just scented or unscented. My problem is that I have a small issue with the decision-making process itself to begin with and agonize over simple choices let alone deciding on cat litter because one is more absorbent or dust-free, low-tracking, hard clumping, pH balanced, anti-bacterial, biodegradable, low dust, flushable, economical, OR made from recycled newspaper, clay, corn, natural wheat, 100% pure pine, or wheatgrass? (WHAT is wheatgrass?).
Why can't one cat litter brand have ALL of these features?
The only two things I have learned is that more expensive doesn't necessarily mean better and "flushable" doesn't necessarily mean it's truly flushable. A friend recently dealt with a flooded bathroom and hefty plumbing bill after carefully selecting and using a more expensive 'flushable' cat litter for a year thinking she was 'doing the right thing' for the environment. Did I mention the lecture from the plumber?
For now I shall continue my quest just as Indiana Jones continued his. In the end, just as he, I am sure I will also conquer and find whatever it was he found (ark, temple, crystal skull) or in my case, the coveted litter.