No rest for the weary.... It's the Fourth of July holiday. So, for the next two weeks, at least, I will become a recluse -- all doors closed, all lights on, the air on high and TV blaring. Mazey and fireworks don't mix. It's either sleep (uncomfortably) with lights on or don't sleep at all.
Each year, I preach the Fireworks Safety Mantra. So, instead of listening to me this time, I thought you'd enjoy a reprieve. I've invited expert Joel Silverman, Bil-Jac's celebrity dog trainer to talk with us. A pro in the field and host of Animal Planet's Good Dog U, Joel was kind enough to share the following tips of the trade with us to keep your pets safe and happy during this year's Fourth of July fireworks displays:
Pet Fireworks Tips: Keep Pets Safe and Happy this Fourth of July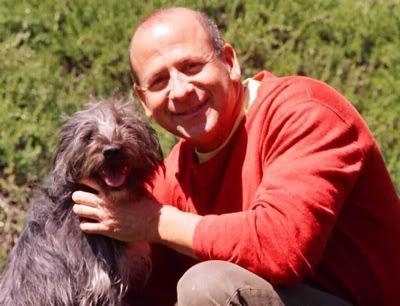 Courtesy of Joel Silverman, celebrity dog trainer and his fur-baby, Foster
Here are a few things to remember about dogs and fireworks:
• If your dog has had a history of being afraid of
thunderstorms and loud noises, he will most
likely have a fear of the sounds of fireworks.
• The degree of fear will vary from dog to dog.
• Remember that many times this fear will
create a lot of anxiety.
• If this anxiety is allowed to manifest and escalate, that is where major
problems can occur.
• Anxiety is a series of escalations, often starts with pacing, pacing faster,
whining, barking, digging and biting at things in the house or yard.
If you leave the dog alone on the 4th:
In dealing with this, you want to keep the dog in the house in a safe area when you are gone. One of the best places would be a crate. The good news about keeping the dog in the crate is that he will not have the opportunity for any of these anxiety problems to escalate. Therefore, the dog never gets a chance to pace and start the series of events.

If you are at home on the 4th:
• Remember that most fireworks activities begin
between 9:00 pm and 10:00 pm
• Make sure you are with your dog inside at the time,
perhaps with his favorite Bil Jac treat!
• Make sure the windows are closed. It will help
decrease the noise.
• Just hang with the dog and offer him some treats
during this period of time, reassuring him.
Remember that all dogs are different. The degree of fear will differ greatly, and so will the way each dog deals with this fear.

Thanks, Joel and Foster! For more information about and helpful tips from Joel, visit his website www.companionsforlife.com. Also, be sure to look for Joel's new book, "What Color is Your Dog".
Joel Silverman is the author of predicted best-seller What Color is Your Dog? and host of Animal Planet's Good Dog U. For over 25 years, Silverman has worked behind the scenes training animals for movies, TV shows and commercials. He has appeared on national programs such as Live with Regis and Kathie Lee, CNN, MSNBC and FOX News, along with hundreds of local morning news programs. Silverman has offered advice on pet care and training based on his lifetime commitment to the welfare of animals and their special place in our lives. Silverman is currently on a 90 city book tour for What Color is Your Dog?