Oy vey, I've been literally thrown to the dogs. No more hiding behind milk bones.


Ok, listen, I know that my pets need to lose weight. (So does their mother.) It's no excuse however, because I know that any extra weight they carry can be so hard on their joints, organs, heart, every aspect of their health.

My sister is staying with me for a while. She saw Mazey and Eli for the first time last night and has yet to stop saying, "wow, that is one big dog… and one wide cat." I just think I was an old Italian grandma in a former life and everyone around me must eat, eat, eat…

Ironically, today is
National Pet Obesity Awareness Day.

The Association for Pet Obesity Prevention
is conducting their third national pet obesity study. Their mission is to obtain real-world data concerning pet obesity in the United States in the Third Annual
National Pet Obesity Awareness Day Study
. The first two studies included approximately 100 veterinary clinics, schools and pet-related organizations.
In order to better understand the growing pet obesity epidemic and trends in overweight dogs and cats, they are requesting our help.
On their
website
you can register your pets information so it can be added to the national database that will be used to formulate overall statistics and raise awareness for pet health and safety issue.

The weight of the matter....
(left: It's my responsibility to ensure Mazey has the best life possible)
One of my biggest concerns with Mazey's extra weight is the stress it places on her already old, aching joints. My biggest challenge with her is that as a rescue dog she was penned up much of her life and not taken on walks. We tried introducing walks as soon as she came to live with us. Mazey, however, is afraid of her own shadow and we've never been able to get past the end of the block.
Needless to say, now a senior, her past time includes moving from her lounge on the front porch to the bottom of the steps to her sanctuary behind the TV stand supplemented by potty breaks, breakfast, dinner and milk bones.
With each passing month, her tired old joints continue to grow weaker. She is not as eager to travel the stairs and hesitates the trip back into the house after potty time.
I've had several Goldens . Two reacted well to the arthritis medication Rimadyl. The others did not tolerate it at all. It was too strong and hard on their systems. Because I adopt senior Goldens, I began a long search for a more natural remedy to help my furbabies aching joints.
In the midst of exhaustive research, I came across a product called
FlexPet.
I am both a skeptic yet also a person who will try anything to help my furbabies.
FlexPet
is the only joint pain remedy that contains an ingredient called CM8™.
CM8™
is a patented compound, a breakthrough all-natural formulation that is clinically proven to promote optimal joint health in your dog, cat or any other pet. The combinations of ingredients in Flexpet with CM8™ are especially designed to nourish the joints, support stronger cartilage, help stimulate the lubricating fluid in the joints and increase total mobility.
If your pet is suffering with joint diseases such as arthritis, bursitis, osteochondrosis (OCD), hip dysplasia or other degenerative problems with the shoulders, elbows and stifle joint, FlexPet offers long-term relief without the use of harsh drugs.
FlexPet™
caught my eye because it is made with all-natural ingredients and no harmful steroids, fillers, or chemicals; it is absolutely safe to take on a regular basis. (As always, consult your veterinarian if you have a concern.)
I am willing to try
FlexPet
on Mazey and will keep you posted on her progress.
Here's the deal,
while you can start to see a noticeable difference in your dog's activity within a few weeks, the company strongly recommends using a full three month supply to see full results
. I wanted to know why so of course I asked and
I think the answer is really important if you are going to consider trying FlexPet
as well.
The maker of
FlexPet
,
Tamer Elsafy
, explained,
"Typically pets see positive results somewhere around the 2 to 3 week range. We offer such an extended guarantee (3 bottles) because it has been our experience that even the tough cases can be overcome if they go ahead and complete the entire 3 bottle order. It is very rare that a pet uses all 3 bottles and does not experience relief. However, nothing is 100% effective 100% of the time.

The reason that we ask a first time user to consume all 3 bottles before coming to any conclusions is a simple one. In many cases joint pain is not an overnight occurrence. It is often the result of neglect, poor diet, injury, predisposition based on breed and/or plain old wear and tear. By the time the pet (or person) is in pain, damage has been done and it takes a period of time to begin to undo that damage. Step one is to lubricate the joint, step two is to control inflammation and step three is to deliver nutrients to the cartilage and soft tissue so that the degeneration stops and the healing can begin. FlexPet deals with the problem, not the symptom so it takes some time to build up in the system and begin to produce results."
FlexPet
offers a buy 2 bottles-get one free on their website and they offer an unconditional 3-month money back guarantee. I'm going to start Mazey on FlexPet this week. I
f you've tried FlexPet, please share your experience with us.
FlexPet is recognizing
National Pet Obesity Awareness Day.
If you'd like to join us,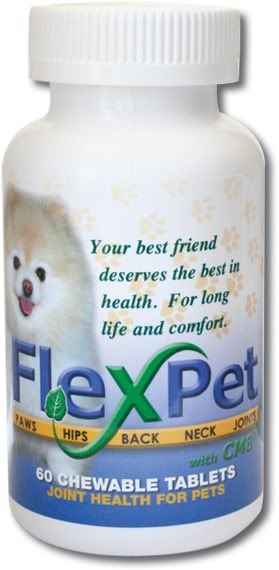 FlexPet would like to
GIVE AWAY A FREE BOTTLE OF FLEXPET
to one of my readers this week
so your fur baby can also enjoy a pain free life.