This recipe comes from my good friend, Kate. She's an Altoona transplant, hailing from Johnstown. Not too far, but still a big difference in towns. Anyway, her haluski is the stuff that people go crazy for. She told me that she took it from three recipes, pushed them together and made it hers. She'd sell it for her kids' band fundraisers back in the day, and she never had to worry about getting leftovers home.
If you're not from Pennsylvania (or the area), Haluski is a Polish-Slovak noodle and cabbage dish with more butter than should be allowed in one recipe. AKA: It's good. Some people call it a side dish, but everyone I know just ends up going back for seconds, maybe thirds.
This recipe is for a 50/50 mix: It's half cabbage and half noodles. Tweak it for what your family and friends like.
This recipe will make a boatload, so have a large roaster ready. Electric or the one you use for your turkey. It doesn't matter.
To get started, you're going to need a few simple things.
- 4 full sticks of butter (yeah, that's right. FOUR.)
- 2 bags of Kluski egg noodles (or wide ribbon. Your preference.)
- 1 medium head of cabbage
- 2 medium-sized yellow onions (3 if you like onions)
- Coarse salt and fresh ground black pepper
- 1 lb. bacon (optional)
- 2 big stockpots and 1 big skillet (2 if you're making bacon)
Start by chopping the onions. You don't want them too thin, so make sure they're about pinky-width.
Take a large skillet and melt ½ a stick of butter over medium heat. Once it's liquid, turn the heat down to low and dump in all your onions.
Stir them around here and there and allow them to caramelize. It's going to take a while, so don't crank the heat back up. You've got stuff to keep you busy anyway.
Get a large stockpot. If you have one you boil corn on the cob in, use that one. Fill it halfway up with water and place it on high heat. This one is for the cabbage.
Take your cabbage and cut it in half. After removing the center, chop the heads into ribbons that are about pinky-width. It doesn't have to be perfect, so if they fall apart, don't fret.
Stir the onions. Did you forget about them? I do sometimes. Oops! That's why it's on low heat.
Get yet another stock pot going. Fill it halfway up with water. Get it boiling, too. This one is for the Kluski noodles.
Once the very large stock pot is boiling, place all your chopped up cabbage into it. Give it a few shakes of salt and stir. Make sure you have a lid on this pot because it will help the cabbage cook properly. Boil for 20 minutes.
Stir your onions again. They should be about halfway caramelized now.
Once your cabbage is in the pot, put your Kluski noodles in to boil in the other pot. Some people have a loyalty to noodles. Whatever kind you like, go for it. I find that local varieties from the Amish/Mennonite communities are the best quality, but you can get a good deal on the grocery store variety, too. If you're not living in PA, get any kind of egg noodle you can, the wider the better. Follow the bag's directions to cook them properly.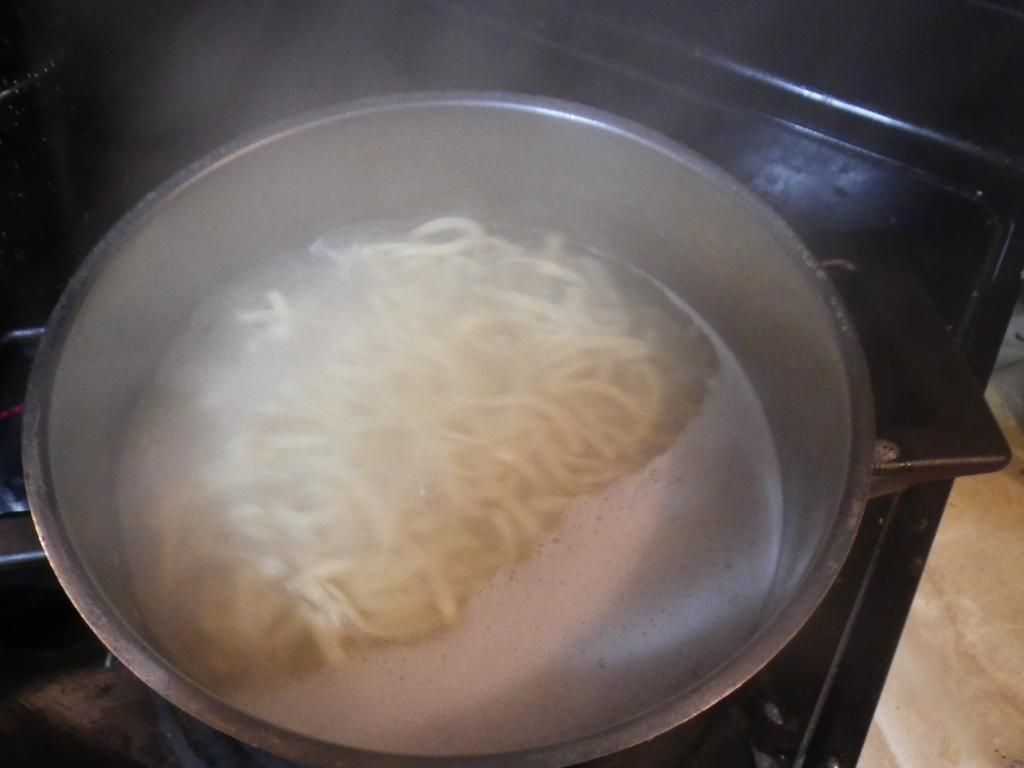 Also, I had two bags of Kluski noodles and one bag of fine egg noodles, and the fine noodles were not meant for this recipe. In the great Pug pantry raid of 2014, our dog, Sadie, decided it would be fun to pull out a bag of Kluski noodles and scatter them through our house while eating them. Moral of the story: Make sure your food storage closet is closed tightly, and if you have to substitute Kluski for another egg noodle type, it's not the end of the world. This time around, I had to use 1 bag of Kluski noodles and 1 bag of fine egg noodles. (Thanks, Sadie.)
Start frying up your bacon if you want it, and patting it dry once it comes out of the skillet. Crumble it once it cools. Tell your dog it can't have the bacon. It's meant for better things than a treat (but don't let the dog know you had a piece).
Now that everything is boiling and frying, give everything a good stir and pull out your roaster. If you have a countertop electric roaster (the kind churches use for community meals), that's the best option. If not, use a roasting pan, the oval kind you'd use for a turkey. It will be rather rull, so that's why I prefer the countertop electric roaster. I'm sloppy and don't need another thing to clean off my counters.
If you're using a roasting pan you place in the oven, preheat the oven to 300 degrees.
In the bottom, cut half a stick of butter into little squares and place them around the roaster. If you want to cut down the butter, you can, but don't go down more than one stick. As the noodles and cabbage roast, they need the butter to cook properly.
Now, you wait until the cabbage is ready. Using a scoop with holes, put half of the strained cabbage in the roaster once the timer goes off.
Stir your onions. I swear, they're almost done.
Next cut up a stick of butter and dot it over the top of the cabbage. Salt and grind pepper over the top. Don't stir it yet. Put half of the noodles in, all of the finally done onions and the remainder of the cabbage. Dot another stick of butter over the top of it, and salt and pepper liberally again. Place the rest of the noodles on top, and dot with another stick of butter, salt and pepper.
If you're cutting down the butter, only put in half a stick instead of a full stick for the last 2 layers.
Now, stir it all together. The reason we layer it is because there's a large amount, layers help the butter melt, and it helps even everything out. I tried to make Haluski once without layering it, and my arm was tired of stirring before I was done.
If you're using an electric roaster, turn it to 200 degrees. I don't put it up to 300 because i don't like it when the noodles burn on the sides. It takes a bit longer in an electric roaster, but it's much easier to control.
If you're using the oven, put it in for an hour. If you're using an electric roaster, put it in for 2 hours. Make sure you stir the batch at least every 20 minutes, allowing it to get nice and coated.
Once the time is up, it's ready to eat. Some people say it's best to cool and refrigerate overnight, others want it as soon as it comes out of the roaster. You make yourself happy and eat it when you want.
Find yourself a whole lot of storage containers or bags and start sharing with your family and friends.
I will try to not judge you if you eat it cold the next day, but, Central Pennsylvanian as I may be, I still can't just wrap my mind around cold Haluski. It took me a while to like Haluski, but I think I just had to find the right recipe. Thanks, Kate!
Enjoy!